Quality Management System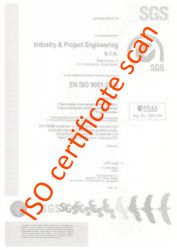 In 2007 we adopted quality management system and gained international QMS certification. These days IPE is certified as meeting the requirements of  EN ISO 9001:2015.
IPE holds EN ISO 9001:2015 certificate for following activities:
    PROJECT DESIGN AND ENGINEERING DOCUMENTATION
    PROJECT ARRANGEMENT ACTIVITIES AND PROCUREMENT
    PROJECT EXECUTION
The quality management system is subject to permanent care and interminable development. Ongoing improvement in all activities  and development of human resources are among Management´s top priorities.
QUALITY POLICY
Intelligent engineering solutions require continuous education and perpetual improvement of each activity and each individual.
Perfection in satisfying our customers' expectations and building their trust is our prime responsibility.
Efficient high quality engineering and project management services at the best prices are our duties.